I handcraft each piece using sterling silver, gold fill, bimetal (sterling and 18k gold), and/or 14k gold (see below). Please visit one of the fine galleries I sell through or contact me directly for pricing. I currently accept payment via an emailed credit card invoice, or credit card by phone. Bracelets can be made to fit any size. Necklaces can be shipped with standard size chains of 16", 18" (most common), or 20". If I am out of stock in any style, I am happy to take orders.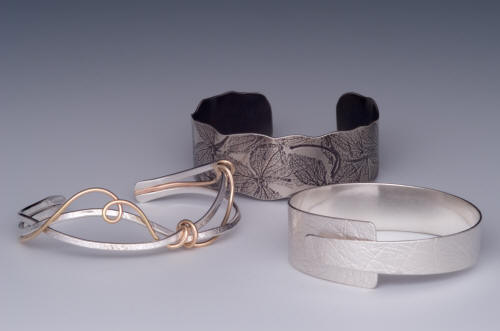 I find joy in creating jewelry; it's my passion! The art of designing and making silver jewelry requires many steps along the way – cutting the metal, molding it into the desired shape, filing, soldering and polishing the finished piece. For inspiration, I look to forms in nature such as waves on the ocean or rolling hills. I try to incorporate the gentle curves and add texture and pattern to the metal so that it may look like different types of leaves or rain drops. Each piece of jewelry is unique, even though I create several pieces with the same basic design.
My jewelry designs come about through direct manipulation of the metal. My workbench is one continuous collage of metal pieces; wires, textured scraps of metal, all different shapes and thicknesses. Add to this an assortment of pliers, shears, and hammers and I have a great environment for creating jewelry. This is my recipe for inspiration. I play with the various shapes and textures to create dimensional, lightweight jewelry that appeals to both casual and formal styles. The combinations of metals and the highly polished surfaces give my work a simple elegance that compliments the wearer.
Metals I work with:
14k Gold
The standard of metals today and throughout history as a precious metal for coinage, jewelry, and other arts. Virtually everyone knows and admires 14k gold; whether it's a wedding ring or you're grandmother's locket.
18k Gold
Lately I've been making several items with 18k yellow gold. I makes a perfect, and natural, combination with the BiMetal I've been working with for years. New design possiblites abound! I'm very excited to see where this takes me.
Argentium Silver®
Sterling Silver of the 21st century! The addition of germanium to the silver alloy causes it to resist tarnishing. Stays bright and beautiful for weeks, months, or years! Requires only an occasional wipe with a soft cloth and lukewarm water to remove a smudge or finger mark. For more information on Argentium Silver, visit the official home of Argentium Silver.

BiMetal
BiMetal – 18 Karat Gold on Sterling Silver. A layer of 18 karat gold with a rich yellow color bonded to Sterling Silver to forming a sheet of precious metal with two distinct surfaces creating unique design possibilities.
Gold Fill
"Gold fill" is a method by which a thin foil of gold is bonded by heat and pressure to a core of brass. In the case of gold filled wire, the gold foil surrounds a brass core while gold filled sheet metal on the other hand may be gold clad on either one or both sides. The gold becomes a fairly durable layer that will last for many years provided the metal does not encounter heavy wear or chemical contamination. The layer of gold must be 1/20th or 5% of the total weight of the metal. I use it primarily as a way to make jewelry more affordable. Any style you see with Gold Fill can also be made with 14k gold instead; just ask!
Special technique: Keum-boo
Keum-Boo (Korean - generally interpreted as "attached gold") is an Asian metal technique dating to the 11th century Korea and Japan. Thin sheets of pure gold were applied to the surfaces of silver hair combs, snuff boxes, small vessels and jewelry as a decorative embellishments. Today, in Korea and Japan, Keum-boo is taught as part of the rigors of goldsmithing. Hand cut pieces of 24kt sheet is applied to the surface of sterling or fine silver. The surfaces are heated to 1100-1150 F and the gold sheet is burnished into place causing a diffusion bond at the surface between the gold and silver. The resulting bond is a strong solder free surface, which can withstand forming and fabrication. I like to use it as a way to accent or highlight designs.